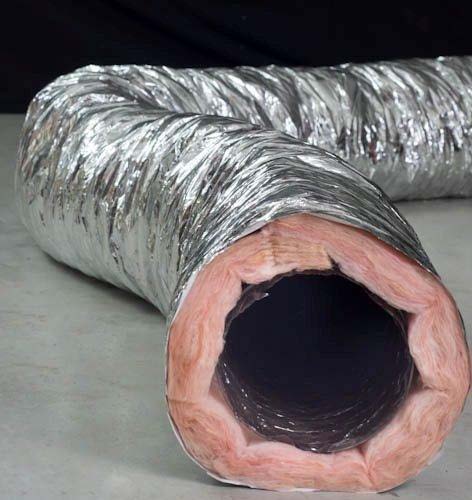 Insulated flex pipe is best used for air conditioning and heating systems. This is a requirement and a need for every building. This said, you need efficient and well trained people to aid you in its installation and purchase.
Here is where we come in.
At Standard Tinsmith & Roofer Supply we offer information on the best insulated flex pipes, and easy ways and links to purchase said items. Standard Tinsmith will provide the pipes, adding a modern industrial feel to your space.
The pipes are available at all times and used for every other use imaginable. They are generally 4″ to 22″ pipes. They are usually available in the rip-stop jacket. This simplifies everything, the piping is made easier and the cost is easier still on the pocket. Simply by placing the piping over pre-installed metal fittings and safely securing it. However, these flexible pipes are not for outdoor use, not to be exposed to ultra violet light. They are designed for temperatures between -20 degrees Fahrenheit to 200 degrees Fahrenheit. Their air flow velocity is placed at 6000 FPM. The maximum positive pressure is rated at 10″ W.C. per UL 181, while the minimum negative pressure is rated at 1/2″ W.C. per UL 181.
The insulated flex pipe is usually made of a spring steel wire helix, enclosed in a completely airtight, 2-ply inner core. The inner core is surrounded by fiberglass, of this; the R4.2 and the R6 are available for use. A special metalized and strengthened vapor barrier encompasses the whole duct.
In today's world, attention is drawn to the virtual aspect of any said space, ducts included. Thus a need to ensure that such a duct fits into the general design of your space. For this reason, we also stock spiral and oval ducts. Formed in 1914, Standard Tinsmith & Roofer Supply Corp. is a company aiming to provide quality to all its customers.
Insulated Flexible Pipe is always in stock and available for all different applications.
We stock 4″ through 22″ flexible pipe
Our insulated flexible pipe is available in rip-stop silver jacket.
The following are the specifications for "Rip Stop" Silver Jacket Flexduct, UV Inhibited Black Jacket Flexduct, Uninsulated Air Connector, and Mobile Home Duct.
Performance Data (Applies to all products, except as otherwise noted)
Rated Positive Pressure: 10″ W.C. per UL 181
Rated Negative Pressure: 1/2″ W.C. per UL 181
Velocity: 6000 FPM
Flame Spread / Smoke Developed
Less than 25 / Less than 50
Temperature Range: -20 degrees F. to 200 degrees F. Intermittent
-20 degrees F. to 180 degrees F. Continuous
Flex duct makes adding air duct runs easy and affordable. No need to wrap with insulation because it already is.
Simply slide over round metal fittings and fasten to create complete air runs for new installation or repair.
PHYSICAL DESCRIPTION
MHP-50 (50' length) flexible duct is constructed
with a spring steel wire helix, encapsulated in a
2-ply, air-tight inner core.  Fiberglass insulation
choices of R4.2 & R6 encompass the core and a
unique metalized, reinforced vapor barrier
surrounds the entire duct.
PRODUCT DATA
Diameters: R4.2 & R6 4",5",6",7",8",9",10"
Length:  50 feet
Packaging:  1 section per package. To meet thermal  properties, packaging complies with recommended
12:1 or less compression ratio. West coast customers  will be shipped in cartons. Central customers will be  shipped in cartons or poly-bags. East coast customers will be shipped in poly-bags only.   Vapor Barrier:  2-Ply Reinforced Metalized Polyester End Treatments:  Raw Ended
Inner Core:  Air Tight 2-Ply Black Pigmented Polyester
PERFORMANCE DATA
Thermal Value:  R4.2 & R6 Classified by Underwriters Laboratories, Inc. and bears the ADC Thermal Certification Mark.
Maximum Positive Pressure:  6" W.G. determined per ADC Test FD-72R1 at 180° F temperatures in a 90° elbow. Maximum Negative Pressure:  1" W.G.
Vapor Barrier:  Flexible air ducts are for indoor applications and should not be exposed to direct ultraviolet light.
Maximum Velocity:  5,000 FPM
Operating Temperatures:  0 – 200° F
Permeance:  (Vapor – Barrier) 0.01 US Perms per
ASTM E96A – 94.
FEATURES & BENEFITS
Reduces Flex Duct installed cost by 12%
UL Listed & Labeled
Guaranteed out of package lengths
10 Year limited warranty
GREENGUARD Gold Certification Formaldehyde free (see www.jplflex.com for more info) 3/8" oversize inner core
Certified R-Values
CODE COMPLIANCE & APPROVALS
Listed & Labeled Underwriters Laboratories, Inc. File # MH11637 UL-181 Class 1 Air Duct, Flame Spread 25 or Less / Smoke Developed 50 or Less. Meets the requirements of NFPA 90A & 90B, UMC & IMC and most model codes. California Insulation Manufacturer #TD-1092