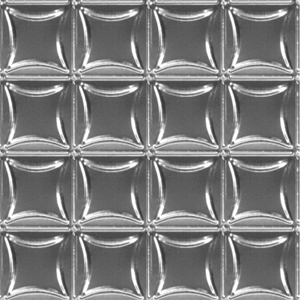 Product Description:
Looking for a trendy yet simple way to set your house or business apart?
Beignet Little Pillow Tin Ceiling panels are easy to install and add the perfect drastic look.
They are 6 inches, making them conveniently sized for one person instillation. With multiple patterns you can really get creative.
With many finishes to choose from; tin, lacquer, clear coat, powdered white coat, copper, chrome, or brass these roofing tiles are sure to match.
Or already have a specific color in mind? By purchasing a tin only finish, you can use an oil based paint to make a more customized look.
Available in a lay in (23-7/8" X 23-7/8") or a nail up (2'x2' or 2'x4') format, whatever type of existing ceiling you are working with the panels will work.
Try mixing different patterns and colors for a chic or artistic expression or choose your top pick pattern with a brass color for a more rustic style. Play around and see what you discover.
Available In:
LAY-IN (23-7/8″ X 23-7/8″)
NAIL-UP 2′ X 2′
NAIL-UP 2′ X 4′
Sized For One Person Install
Finishes:
Tin
Lacquer/ Clear Coat
Powder Coated White
Copper/Chrome/Brass