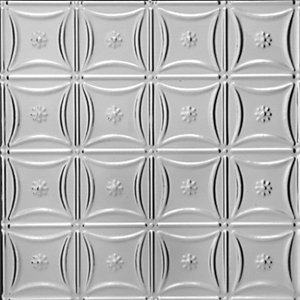 Product Description:
Delicate Daisies Tin Ceiling is the most resilient tin ceiling that provides a perfect authentic and seamless look to your ceiling.
This product is well known world-wide due its brilliant appearance that makes the room look cozy and attractive.
It's low cost and reliability makes it an attractive choice for customers.
Delicate Daisies Tin ceiling are made with sophisticated, brilliant patterns which offer elegance as well as simplicity.
Different styles and modification have been added to the Delicate Daisies Tin Ceiling to enhance comfort.
In addition, Delicate Daisies Tin Ceiling is durable and provides aesthetic value and appearance to any room.
Modern architecture has embraced tin ceilings to add more value and luxury to the property.
It's a long lasting material that does not require frequent painting. As such, Delicate Daisies Tin Ceiling comes with different colors of your choice.
Available In:
LAY-IN (23-7/8″ X 23-7/8″)
NAIL-UP 2′ X 2′
NAIL-UP 2′ X 4′
Sized For One Person Install
Finishes:
Tin
Lacquer/ Clear Coat
Powder Coated White
Copper/Chrome/Brass