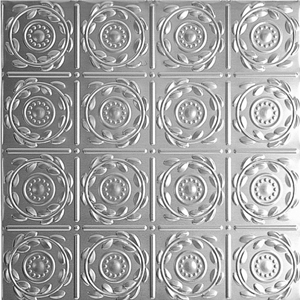 Product Description:
The Laurel tin ceilings bring about a blend of simplicity and elegance.
The ceilings have multiple patterns with the cornices sized in a convenient manner with no sharp edges to enhance installation by a single person.
The tin only finishes require painting with any color of your preference using paint based on oil or polyurethane oil based clear coated paint.
Among other features of the Laurel tin ceilings include; rust resistant, they are lightweight, affordable and can be cut with scissors. Some Laurel tin ceilings are also paintable with water based paint.
It brings out a tin look and no metal echo with easy glue up installation or drop in grid system.
The tin ceilings can add a design element to any room as they can be installed on a variety of surfaces such as popcorn, drywall, plywood and other flat surfaces by using a construction grade adhesive.
They can also be laid into a suspended ceiling system.
The Laurel tin ceilings are available in a variety of astounding finishes. There are also accurate head nails available in different colors to harmonize the contrasting finishes
Available In:
LAY-IN (23-7/8″ X 23-7/8″)
NAIL-UP 2′ X 2′
NAIL-UP 2′ X 4′
Sized For One Person Install
Finishes:
Tin
Lacquer/ Clear Coat
Powder Coated White
Copper/Chrome/Brass