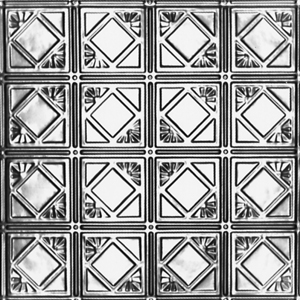 Product Description:
THE CLASSIC SIX INCH TILES FOR YOUR CEILING
Diamondback Square Tin Ceiling is for anybody who wants to change their ceilings from the normal boring view to an elegant one.
It is made of Aluminum with no sharp edges for safety precautions.
This one-person installation product comes in various patterns, which make up the different designs of the product.
It is suitable for the nail-up or plywood ceilings and the drop in or suspended ceilings, and the purchasers have the final say on the color of the tiles.
This further makes them more efficient for matching up their color with that of the house painting.
This tin plated steel product is the classic type measuring six inch by six inch and has a repeating patterns with currently over seventy-five finishes all for the satisfaction of the customers demand.
The aluminum guarantees long lasting by preventing rusting. Furthermore, diamondback squares tin ceiling are affordable ranging from $9.75 to $56.20 depending on the quality and design of the item.
These multiple pattern tiles also offer simplicity with the cornices on them and the oil based paints or clear-coated oil based polyurethane applied.
Go ahead and make your ceiling magnificence with this beautiful Diamondback Squares Tin Ceiling.
Available In:
LAY-IN (23-7/8″ X 23-7/8″)
NAIL-UP 2′ X 2′
NAIL-UP 2′ X 4′
Sized For One Person Install
Finishes:
Tin
Lacquer/ Clear Coat
Powder Coated White
Copper/Chrome/Brass