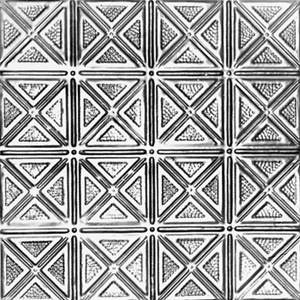 Product Description:
If you are tired of looking up and seeing the same old, boring ceiling, you may want to consider making the switch to a tin ceiling.
A Weave Dimensional Geometry Tin Ceiling will look great, and there are many other benefits in addition to appearance.
They come in a variety of patterns, and you can use different types of finishes to get just the color you want, including tin, lacquer/clear coat, powder coating (white), and metallic (copper, chrome, and brass).
One of the great things about this product is that it is easy to install. You don't have to bother spending a lot of extra money on hiring a contractor, because you can do the work yourself.
The pieces are cut to a size that makes it easy for one person to install the ceiling without any help, and there are two types of tiles: lay-in tiles that are 23-7/8" by 23-7/8" and nail-up tiles in two sizes (2' X 2' and 2' X 4').
Available In:
LAY-IN (23-7/8″ X 23-7/8″)
NAIL-UP 2′ X 2′
NAIL-UP 2′ X 4′
Sized For One Person Install
Finishes:
Tin
Lacquer/ Clear Coat
Powder Coated White
Copper/Chrome/Brass