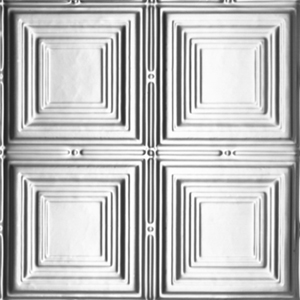 Product Description:
Sometimes you just got to raise the stakes.
That's exactly what Madison Square Tin Ceiling is for.
This rustic and elegant twist on normal tin ceilings is exactly what every ceiling in your home covets! With the illusion of multiple squares being stacked on top of each other and getting bigger and bigger with every leap, the sophisticated design is nothing less than beautiful.
There are many customizing options to fit your exact needs for this specific model. For whatever fits your needs, you have the option of picking a panel size of 2 inches by 2 inches or 2 inches by 4 inches.
There are two different installation methods, you can pick between a drop in method (using grids to keep them up) or a nail up method (using nails to keep them steady).
Finally, you can pick your finish. If you're unsure of what color would look best in your lovely home, feel free to browser our vast options of colors and coatings! Treat you and your ceiling to this beautiful, one and only, Madison Square Tin Ceiling.
Available In:
LAY-IN (23-7/8″ X 23-7/8″)
NAIL-UP 2′ X 2′
NAIL-UP 2′ X 4′
Sized For One Person Install
Finishes:
Tin
Lacquer/ Clear Coat
Powder Coated White
Copper/Chrome/Brass