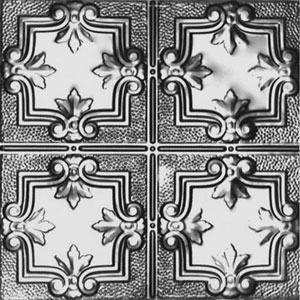 Product Description:
The Fleur-De-Lis are an exceptionally exquisite and beautiful range of decorating patterns and cornices for your ceilings.
Being just 12 inches in their dimension, they add a touch of luxury to your home decor and provide a premium look to your ceilings.
Our range of ceiling patterns made from tin have been crafted with absolute expertise so that a person can install it all by himself.
These tin finished ceiling patterns are made available to you in a color of your choice.
Oil based paint or a clear coat of oil based polyurethane is used to add the color.
Available in measurements of LAY-IN (23-7/8" X 23-7/8"), NAIL-UP 2′ X 2′ & 2′ X 4′ they are perfectly sized for installation by a single person.
Apart from tin, they also come in a variety of other premium quality finishes available like the powder coated white, or the copper / brass / chrome finish or you can opt for the clear coat / lacquer finish.
Available In:
LAY-IN (23-7/8″ X 23-7/8″)
NAIL-UP 2′ X 2′
NAIL-UP 2′ X 4′
Sized For One Person Install
Finishes:
Tin
Lacquer/ Clear Coat
Powder Coated White
Copper/Chrome/Brass