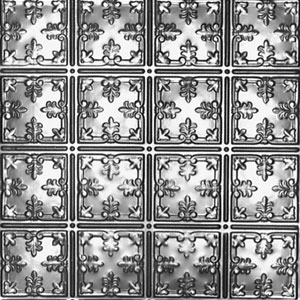 Product Description:
Mini Fluer-De-Lis Tin Ceiling is an elegant and durable steel ceiling plate coated with tin. Besides its comparatively pocket friendly price of $8.75 per piece, it conveniently measures 24" by 24" with no edges making it favorable for any fitting.
The beautiful home invention further has the decorations of multiple cornices and breathtaking patterns that add a sense of decor to a building.
No sight beats the deeply satisfying feel of Mini Fluer-De-Lis Tin Ceiling in a house. Not only does the ceiling rejuvenate the touch of vintage in the house, it brings serenity and elegance to a home.
The steel-tin made ceiling also provides a permanent solution to cracked and damaged ceiling.
This universally beautified product would blend well in a French-themed environment and any country style environment like hotels, cafes and homes.
Even though it is advisable to prim the ceiling to avoid corrosion, Mini Fluer-De-Lis Tin Ceiling still looks magnificent without paint.
Available In:
LAY-IN (23-7/8″ X 23-7/8″)
NAIL-UP 2′ X 2′
NAIL-UP 2′ X 4′
Sized For One Person Install
Finishes:
Tin
Lacquer/ Clear Coat
Powder Coated White
Copper/Chrome/Brass