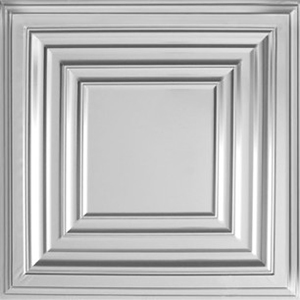 Product Description:
This 24″ stylish tin ceiling comes with multiple patterns which offer elegance and simplicity.
It provides the classic look of yesteryear with nostalgic recreations that leave a lasting impression wherever your desired space for installation is, be it kitchens, dining rooms, bedrooms or halls.
All of our tin ceiling patterns and cornices are conveniently sized for one person installation. Tin only finishes can be painted with whichever color you choose using oil based paint or can be clear coated with oil based polyurethane.
Admired for their durability, lightweight and style.
They are best suited for homeowners or architects looking for that exquisite finish. Rather than having a plain white ceiling,it becomes an eye-catching feature once patterned with metal panels.
Bring out the past into the modern life with beautiful art where affordability doesn't compromise on quality.
Available In:
LAY-IN (23-7/8″ X 23-7/8″)
NAIL-UP 2′ X 2′
NAIL-UP 2′ X 4′
Sized For One Person Install
Specifications:
LAY-IN (23-7/8" X 23-7/8")
NAIL-UP 2′ X 2'NAIL-UP 2′ X 4′
Sized For One Person Installation
Finishes:
Tin
Lacquer/ Clear Coat
Powder Coated White
Copper/Chrome/Brass