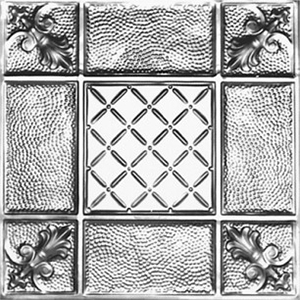 Product Description:
The Plate No. 523; simply authentic
Have you had a glimpse of our contemporary Plate No. 523 yet? This 24" tin ceiling is just incredible. It has multiple patterns that offer elegance and simplicity, and its cornices are conveniently sized for one individual installation.
Its tin only finishes can be painted with any color of your own unique preference, cautiously utilizing oil based paint or clear covered with an oil based polyurethane.
Available In:
LAY-IN (23-7/8″ X 23-7/8″)
NAIL-UP 2′ X 2′
NAIL-UP 2′ X 4′
Sized For One Person Install
Finishes:
Tin
Lacquer/ Clear Coat
Powder Coated White
Copper/Chrome/Brass